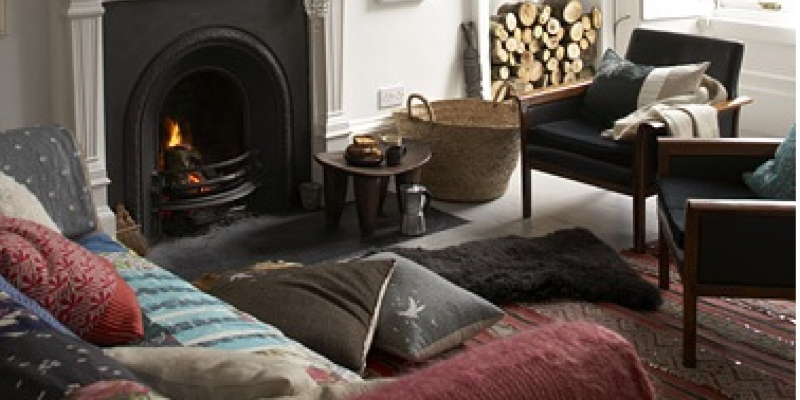 "A happy accident and a stroke of fortune" is the way Vancouver artist Meghan Paterson ended up in the small coastal community of Refuge Cove in Canada. Paterson had spent the past 12 years living mostly in Vancouver and overseas but chose to contact her Gulf Island roots and approved a summer painting residency in Refuge Cove. In exchange for your residency, she had been to help set up a community gallery for local creatives. Without any expectations, she became inspired by the people, place, signage and lifestyle. She created paintings on found items and titled the final assortment "Safe in Camp".
Refuge Cove ironically led Paterson, who also set the Beggars Banquet, to find her existing home in Vancouver; the homeowner had lived in Refuge Cove during the 1970s. "I wanted it as soon as I walked up to it," Paterson says. "It is sort of in the last bastion of Strathcona [a locality]. The Rogers Sugar Factory is my favorite building in the city, and once I walk outside my front door it is the first thing I see, backed by Grouse Mountain. I love old homes and buildings, also I couldn't reside in a brand new location. This home was built in 1904 and has been completely restored to heritage standards. So it is old but new and clean"
at a Glance
Who lives here: Meghan Paterson
Location: Vancouver
Size: 550 square feet; 1 bedroom
That's intriguing: Paterson's Rocco is renowned modernist architect Fred Hollingsworth.
Heather Merenda
The entry leads right into the study. Here is actually the view from the dining room. Throughout the day the space will get plenty of natural lighting from a street-level window.
Heather Merenda: Who are the neighbors?
Meghan Paterson: The homeowner is a recognized artist named Liz Magor, and my dear friend Lindsay lives next door. All three of the reddish heritage homes in a row are occupied by interesting people involved with the arts.
Heather Merenda
Actor Bill Murray showcased from the gallery wall behind the desk's portrait is by artist Jeff Boyes. The framed image on the desk is of Paterson with her father from when she was 1 year-old.
HM: What do you love most about your neighborhood? Any go-to places in Strathcona?
MP: The neighborhood is Fantastic. I run through it and down to the trail at Strathcona Park almost daily. Au Petit Chavignol is a great spot for a bite and a glass of wine in the day. Additionally, the Union Market is my go-to for eggs, milk, bakery and papers. I love using a neighborhood marketplace.
Heather Merenda
A snapshot from the dining room indicates the view to the kitchen and the bathroom.
HM: In case you can splurge on anything for the house, what could it be?
MP: Chairs! I get nine tables but no seats.
Heather Merenda
The top shelves hold all the glassware. Paterson uses a cellular cabinet (butcher block) to store extra pots and pans; it also provides additional task space.
HM: What was the main design dilemma?
MP: The Absence of closets and storage area. I must be creative with where to keep the pots, pans, brooms and all of the stuff that usually is not a part of decorating.
Heather Merenda
A typewriter from Paterson's mother adds vintage appeal to the study.
"I have never owned a television, and I really don't have a sofa," says Paterson. Rather than setting up a living space, she purchased an old oversize 1960s metal workplace and built a study. She states, "Bookcases filled with books and cabinets of curiosities is more my style"
Heather Merenda
The creativity of Paterson blossomed at a very young age. Growing up in Gooch Island, British Columbia, she had been surrounded by nature rather than television and the media. She grew up around art and homes steeped in style, and her grandfather is modernist architect Fred Hollingsworth.
Memorabilia sits atop a shelf in the Analysis.
HM: What's your most prized possession?
MP: My Clarice Cliff Bizarre vase from the home I grew up in and the whale aisle I found in Refuge Cove are pretty high up on the listing.
Heather Merenda
The art hanging from the study is from Paterson's "Safe in Camp" collection. This painting is by Toronto artist André Ethier.
HM: Do you have a favorite artist?
MP: Egon Schiele is my all-time favorite painter alongside John Waterhouse. I have always adored the myths and stories he exemplified throughout paintings. Additionally, still lifes from the Renaissance — the items laden with significance, the impermanence of life and so forth, all serve as art inspiration for me.
Heather Merenda
Paterson's original art is nestled among her collection of books.
HM: What are you currently working on now?
MP: I'm working on a brand new art project but want to keep it under wraps for now.
Heather Merenda
Paterson spends most of her house time at the kitchen table. "I work out of there; I see the newspaper there; I eat there; I drink wine with friends there. It is that place in my home," she states.
Instead of a pendant lighting, Paterson strung glass hubs from the ceiling. The Denmark flag is a souvenir in the time in Copenhagen, which also happens to colour coordinate with her art gallery wall. The wood table and chairs are vintage.
Heather Merenda
The brick wall is a wonderful detail from the dining room and includes a painting out of what Paterson calls (tongue in cheek) "a barbarous stage in my art career" The collection consisted of brass knuckles, a butterfly knife, a broken bottle and a toothbrush shiv. The framed type printing is in the art show but is really a Pink Floyd lyric from the song "One of These Days" Paterson says, "It's a good use of phthalo blue"
Heather Merenda
HM: What's your style philosophy?
MP: I enjoy being around recognizable objects, things I have accumulated throughout my entire life so far. I like paintings hung in a salon style and items in groupings. Your house and the items in it should tell your story.
Collage display print: artist Office Supplies Inc..
Heather Merenda
A notable piece from Paterson's "Safe In Camp" collection is this self-portrait hanging from the entryway. "It marks a very important shift in my own life and work. I wanted to keep it like a manifestation," she states.
Paterson is famous for her ability to portray the essence of personality within her subjects. You will find layers of emotion and thought behind each brushstroke. The rich tones and thoughtful details combine to convey a feeling that Paterson is filtering her private experiences through her art.
Heather Merenda
In the restroom, a collection of first aid kits is mounted onto the wall. Paterson has been collecting these kits for quite a while, finding most of them at flea markets and antiques stores. Paterson says, "When you start collecting items, people start finding them for you." Some really still have health supplies within them, but Paterson jokes, "No morphine abandoned, I'm afraid."
Heather Merenda
Research and collecting trips help Paterson seek ideas and subjects for her art. In turn she's collected ephemera that she displays through the home.
Paterson is also the creator of and curator for Beggars Banquet, a monthly pop-up flea market in Vancouver, which is her favorite place to search for her property. The motto is "a discerning choice of quality products," she states, "and it is a great place to find unique antiques and pieces at really great prices" The event recently expanded to be hosted every other month in Portland, Oregon.
Heather Merenda
Here is just another one of Paterson's curious collections. She describes it as "the creepy marionette hands"
Heather Merenda
"I'm not especially religious, but I just love Mexican civic iconography," says Paterson.
The bedroom is a tight match, with a king-size mattress filling most of the space. But it's extremely bright and has a greater than typical ceiling, making it feel less encapsulated. "I really love my king-size bed," Paterson says. "Occasionally I sleep sideways just because I could."
Blanket: Pendleton