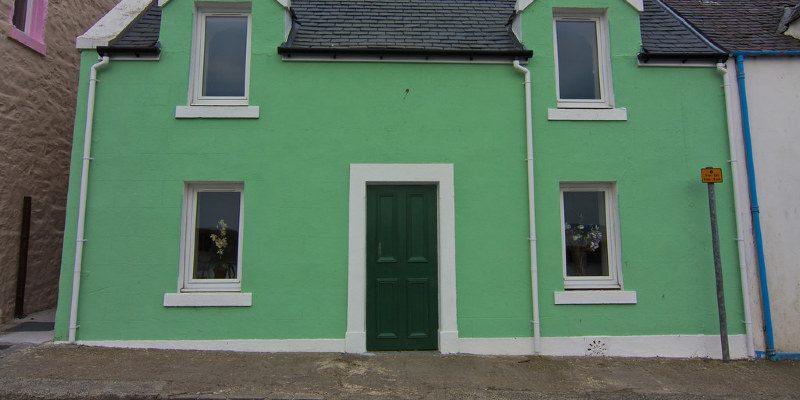 As soon as they became parents, Deanna and Brian Pennock began to look into purchasing a home for their family. Their main goal was to be near their own parents, however, they were interested in trading their own hectic life for a more rural experience. Considering that the flagging market and their desire to honor the changing needs of the family, they chose to give multigenerational living an attempt.
In 2010 they blended resources with Brian's parents to buy a 1929 Craftsman home in New Bridge, Oregon. The house was in great condition and had a large unfinished basement. Deanna had seen it many times while visiting her parents, who also reside at New Bridge. "Brian and I'd drive by and say, 'Isn't that a lovely home?'" She states. "We were lucky that it was for sale when it came time for us to buy."
in a Glance
Who lives here: Brian and Deanna Pennock; their kid Edison, 3; and Brian's parents, Marty and Gary Pennock
Size: 2,900 square feet; 4 bedrooms, two bathrooms
Location: New Bridge, Oregon
That is interesting: The Pennocks possess a chicken coop in their garden, kept mostly for egg whites. Two roosters and elderly hens are called after Union generals from the U.S. Civil War period.
Sarah Greenman
Sarah Greenman: What about the house made you know that it was "the one"?
Deanna Pennock: For Marty, I think this house was love at first sight. For me personally it was the bundle deal — the part of land it sat on and the two front rooms. I wanted a home that would permit a backyard and pastured chickens. I understood this was a home that could sustain a family. And I understood the space would function well as a multigenerational home.
Marty Pennock: I love the people here. We have more friends here than we did in Texas. We lived in Killeen before moving in 2010. The views are amazing and change with the seasons. It is a gorgeous location.
Sarah Greenman
SG: What is your favorite room?
DP: The front room. I wanted a formal living room centered on sitting, conversation and novels rather than TV and play with toys. One of my favorite pieces in this room is the green velvet fainting couch. I Discovered it in Windfall Antiques at Baker City. Leo, the owner, is lovely to work with.
Sarah Greenman
Heirloom pieces are mixed with thrift store finds to make a sitting room reminiscent of a bygone era. Deanna maintains her personal aesthetic was deeply affected by her grandmother's home, which also had a comfy sitting room.
DP: The organ came out of my maternal grandparents. My great-grandfather Root, who I hear was a fine tenor, would have been influential in its purchase back at the Midwest in the early 1910s.
Sarah Greenman
SG: Tell me about your decorating philosophy.
DP: In my heart, I'm a traditionalist. I wish to make an environment that leads relationships in a particular direction: away from fast and stressed and plugged in, and toward slow and ease filled and in touch. Remember the farmhouse at Anne of Green Gables? I linked to Anne if she had her friend over and wished to give her a suitable lunch and cordial. Hospitality is important to me.
MP: I love what Deanna has done with our home. She has an incredible eye. That is Deanna's dream.
Sarah Greenman
Among the main selling points of this home was a large unfinished basement, which the family built to make a living space for the younger Pennocks and their kid, Edison. The basement now is composed of two bedrooms, a bath, a home office and a family room.
Bookcases: Billy, Ikea
Sarah Greenman
The basement toilet is a fascinating departure in style from the rest of the house. Barn wood walls and corrugated metal siding give this space a superb rustic feel. The brand new double sinks out of Ikea mix well with corresponding vintage items, such as the blue soaking tub.
Bathtub: Prairie City Antiques; tub faucet fixture: Vintage Tub & Bath
Sarah Greenman
SG: Your proudest homeowner moment?
DP: The downstairs bath. We love it. We told our builder exactly what we wanted, made a few key decisions about the appearance, and in the long run it turned out to be a crazy but executable thought that really worked! 1 thing this house has taught me is to trust my instincts. While my home is certainly not unified, it is still holistic.
Sarah Greenman
The bedside lamps at the downstairs bedroom are from Pottery Barn. "They were certainly an indulgence," says Deanna. "But I love them and they're heirloom quality"
Paint: Top Country, True Worth
Sarah Greenman
SG: Where are your favorite places to hunt for home goods?
DP: Give me a few antique stores and a triple latte and I'm good for the whole day. We have some Excellent ones in Baker County, such as Windfall Antiques, Random Resales, Halfway Whimsical and JD's Mercantile. If you do not reside in a metropolitan area, you really can't create a pure style. One needs to have access to this marketplace to do that. I guess I'm lucky that I have eclectic tastes and feel well served by consignment shops and antique malls.
Sarah Greenman
SG: Tell me about your woodstove.
DP: It is a Fisher Papa Bear stove, circa 1970s. I got it out of a neighbor's shed. It is not as effective as the brand new models, but it is successful in heating about 90% of our property. We really like the appearance of it and it met our budget conditions. Someday we will upgrade.
Sarah Greenman
Edison's bright and airy room is decorated with road signs and Thomas the Tank Engine paraphernalia. Deanna picked the Kura bunk bed from Ikea to make more floor area for playing.
MP: One of my main reasons for living together was Eddie. I wanted to really know my grandchild and see him grow.
Paint: Soft Twilight, True Worth
Sarah Greenman
SG: If money were no object, what would be your next home improvement project?
DP: A kitchen remodel. I'd love to eliminate the wall between the kitchen and the mudroom to start up the space a little. I love the appearance and usefulness of a Depression-era kitchen.
Sarah Greenman
A classic kitchen hutch is tucked away in a small nook and provides much-needed storage for bowls, pots, baking goods and cookbooks.
DP: We discovered that this gorgeous hutch, which we refinished, at Halfway Whimsical in nearby Halfway, Oregon.
Sarah Greenman
SG: What did you do to make the home yours?
DP: The living room was painted in a dark colour and carpeted. The first thing we did was return it to a neutral palette and then pull up the carpet. The hardwood floors were concealing below, so we had a local company come in and refinish them for us.
Sarah Greenman
The house's built-in dining room was among the characteristics that initially caught Deanna's eye. The woodwork combines a Craftsman contour with rare Victorian details, such as the carving at the top of the central columns.
Sarah Greenman
The yellowish dining room walls possess an evocative patina, which offers the perfect backdrop for classic artwork. Deanna dropped for this lovely painting in a yard sale at the nearby town of Richland. It is called "Lady with a Harp" and was performed by L. Campbell Taylor at 1937.
DP: We are really planning to repaint this room — something at the blue-gray family. I really like the gold, but I'm not satisfied with it at that area. Perhaps your pictures will persuade me otherwise!
Paint: Savannah, True Worth
Sarah Greenman
The central dining room is the heart of the home and provides space for family meals, morning discussions over coffee and space for Eddie's art projects. Deanna replaced the existing lighting fixture with a round candelabra from Pottery Barn.
Sarah Greenman
Marty's bedroom is painted bright white and receives delicate light from west-facing windows. Marty is a ace on the sewing machine and her own bedding. Her ornate wooden backsplash mattress shares space with classic owl artwork.
SG: Would you have any advice for people who are interested in multigenerational living?
DP: You have to look to the future. Be patient with yourself, with others and with all the space. Willingly and cheerfully make compromises. And if you're in a rut, do not worry. The space will eventually say something to you even if it's silent at the moment. It is the same with people, I guess.
Can you reside in a multigenerational home? We wish to see it. Tell us in the Remarks, also!