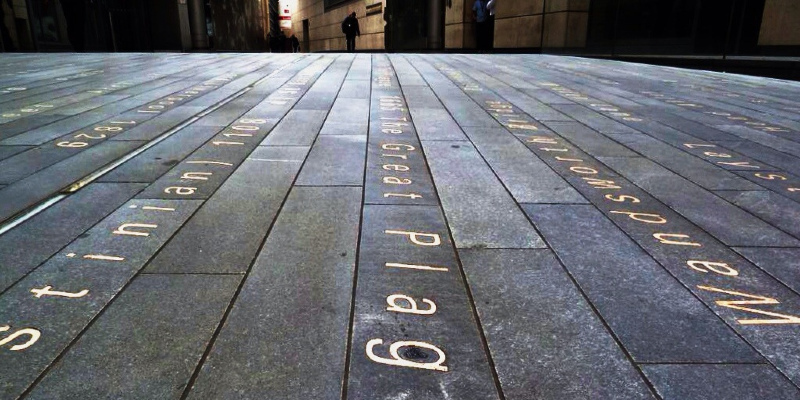 Measure inside a whimsical wooden wonderland in David Stark's temporary Manhattan concept shop, Wood Shop. Feast your eyes on everything from wooden cupcakes to crocheted tools. Then stop by the Museum of Modern Art and see an exhibit imagining new housing units and infrastructure systems proposed by architects, engineers and landscape designers for five U.S. suburbs with higher foreclosure rates. Go on a fragrant journey and see what is in bloom in the Philadelphia International Flower Show, the country's biggest and oldest indoor event of its type. And attend a lecture researching Philadelphia's history. Continue reading for our five selections of things to do and see today.
WORK Architecture Company
EXHIBIT — During July 30, 2012
Foreclosed: Rehousing the American Dream
Museum of Modern Art
11 W. 53rd St., New York, NY
Foreclosed: Rehousing the American Dream explores the architectural possibilities for both towns and suburbs in the aftermath of the recent U.S. foreclosure crisis. In the summer of 2011, five interdisciplinary teams of architects, urban planners, ecologists, engineers and landscape designers envisioned new housing and transportation infrastructures within five "megaregions" across the U.S., including California, Oregon, Illinois, New Jersey and Florida, drawing on notions proposed in research book The Buell Hypothesis. Teams include professionals in MOS, Visible Weather, Studio Gang, WORKac (photograph), and Zago Architecture.
The setup presents the proposals developed during the architects-in-residence app, including a wide selection of models, renderings, animations and analytical materials. See here to get an interactive multimedia display of this display.
Hours: Sunday–Saturday, 10:30 a.m.–5:30 p.m.; Fridays, 10:30 a.m.–8:00 p.m.; closed Tuesdays
Price: $25 adults, $18 seniors, $14 students, kids 16 and younger, free
FLOWER SHOW — March 4–11, 2012
2012 Philadelphia International Flower Show
Pennsylvania Convention Center
12th & Arch Streets, Philadelphia
Each March since 1829, the air in Philadelphia smells just a tad bit fresher. For a complete week, enjoy over 10 acres of display space transformed into a floral fantasy world showcasing work in the planet's premier landscape designers and florists. Every year, some 60 professional landscapers, florists, and horticultural and educational organizations create impressive full size gardens and floral displays which will delight all your senses. Growers and horticulturists from all over the world showcase their prized plants and compete for honors. Over 580 artistic and horticultural courses are exhibited, with over 2,000 entries in courses ranging from miniature settings to plants that are pressed.
Revenues generated by the flower show help encourage the Pennsylvania Horticultural Society's outreach program Philadelphia Green, which helps transform the city's public and communities landscapes to green spaces.
Hours: March 4 and 10, 8 Gamble–9:30 p.m.; March 5–9,10 Gamble–9:30 p.m.; March 11, 8 Gamble–6 p.m
Price: General admission: $27 adults, $20 students, $15 kids; click here to buy tickets.
LECTURE — March 6–May 8, 2012, 6–8 p.m.
Building Philadelphia: Architecture, History, and Politics
Philadelphia Center for Architecture
1218 Arch St., Philadelphia
The Center for Architecture is beginning an exciting 10-part lecture series featuring talks by distinguished regional scholars, including academics, curators and consultants. Discover the history of Philadelphia's built environment and learn about the town's diverse architectural styles, population changes and advances in building technologies. You can also meet the people behind a few of the town's notable building projects.
The show kicks off with a lecture by John Andrew Gallery, executive director of Preservation Alliance of Greater Philadelphia, titled "Penn's Plan and the Founding of the City." Other lecture topics include "Moving on Stilts: The Tall Building at 19th-Century Philadelphia," "Philadelphia Railroads" and "Misfits and Heroes: Modernism from the Delaware Valley."
Full series cost: $200 general public, $150 members, $100 students (with valid ID) and associate members
Individual lectures cost: $25 general public, $20 members, $15 students (with valid ID) and associate members. Register here.
David Stark Design
POP-UP SHOP — Through Feb. 27, 2012
David Stark's Wood Shop
Haus Interior, 250 Elizabeth St., New York, NY
Take a bite into the latest creative wooden treats from occasion designer David Stark in Nina Freudenberger's transformed Haus Interior shop. The store includes Stark's limited-edition product lineup, including everything from timber nickels to eggs and assorted home décor products, including furniture. The gallery-like store experience includes 75 wood-inspired objects illustrating Stark's smart, whimsical design, and you're bound to eat up every grainy detail. See more in the pop-up store here.
Hours: Monday–Saturday, 11 a.m.–7 p.m.; Sunday, 12–7 p.m.
modDecor
SHOWROOM — March 14, 2012
Spring Fling
Design Center in the Merchandise Mart
222 Merchandise Mart Plaza, Chicago
See what is new in outdoor design this spring in "Spring Fling" (to the trade only). Here's what's on the schedule.
10 a.m. demonstration: "The use of Outdoor Furniture and Accessories and Curb Appeal," by HGTV's "Designed to Sell and Curb Appeal" sponsor John Gidding
11 a.m.–two p.m. showroom open homes: Discover the latest outdoor accessories and furniture from over 20 exhibitors in the showroom open homes and enjoy select discounts for ahead on your outdoor room projects.
Two p.m. demonstration: "Designing for Life(design)" by Sunbrella's layout and creative manager, Gina Wicker
Click here to enroll.
More 2012 design events: Feb. 6-Mar. Two, 2012, Feb. 17-Mar. 9, 2012
What is on your calendar? Let us know in the Comments!